Working Towards a Slavery-Free Supply Chain
by admin
Last Wednesday, in an urgent and moving testimony before the Senate Foreign Relations Committee on "Ending Modern Slavery," actor and tech investor Ashton Kutcher pressed the importance of using technology in the fight against human trafficking. Citing the significant impact a suite of web-based tools developed by Thor, a company co-founded and chaired by Kutcher, has had on rescuing victims, the actor called on U.S. legislators to direct further funding for the development of additional products and technologies to help combat modern slavery.
We couldn't have argued it better ourselves.
We are firm believers in the transformative power of technology (we are a technology company after all) and its capacity to change the world for the better. In fact, this simple belief powers pretty much everything we do: fundamental to all our efforts is the creation of abundant value—for our immediate customers, yes, but also for individuals and businesses across the supply chain and beyond too. That's also why in recent months, we've focused on identifying ways we can leverage our data, technology, and industry partnerships to help bring an end to human exploitation and sex trafficking.
That human trafficking affects nearly every country, in nearly every geography, is sublime in the darkest sense of the word, a clear affront to our common humanity. No wonder the UN calls it the crime that "shames us all." And yet trafficking in persons remains staggeringly persistent, at once both nearer and more common than most realize. Victimizing nearly 21 million women, men, and children around the world, this modern-day form of slavery is the second-largest illicit industry behind drugs, generating an estimated $150 billion in illegal profits annually. At home in the US, trafficking takes place in towns and cities in all 50 states and places nearly 300,000 children at risk each year.
For everyone at Loadsmart, the moral imperative couldn't be clearer: "We take our impact seriously and we're dedicated to working for the common good and doing what's right, in addition to being deeply passionate about building transformative technology for logistics," explains our Chief Commercial Officer Diego Urrutia. Urrutia's proximity to human trafficking is particularly personal: his wife, Kristin Pisarcik, was part of the award-winning team of journalists at ABC News that broke the story about America's domestic sex trafficking issue and spent half a decade reporting on victims of the crime and local and national efforts to stamp out the issue.
What We're Doing to Help
Current efforts, like the software developed by Kutcher's Thor, demonstrate technology's potential as a force for good and its power to disrupt human trafficking. Learning from and building upon these successes, our engineers are hard at work exploring and developing new features and tools to add to our products that will aid the cause. Currently, and notably, we are iterating through an update to our mobile driver app that will allow truckers to instantly connect with The National Human Trafficking Hotline to quickly provide tips, seek services, request help, or alert authorities—all without leaving our app.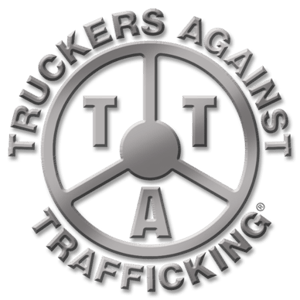 We've also recently teamed up with Truckers Against Trafficking (TAT) to help educate, equip, empower, and mobilize our partners—shippers, carriers, and drivers—to
combat domestic human trafficking. Since 2009, TAT has worked tirelessly to rally America's 3.4 million truck drivers and members of the trucking industry to prevent human trafficking on US highways.
As the eyes and ears of the nation's roads, tuckers have proved to be effective allies in the effort to halt trafficking. With the help of TAT, members of the trucking industry have become one of the fastest growing demographics of callers to the National Human Trafficking Resource Center in the country, generating 503 cases of sex trafficking involving some 1098 victims.
We are proud to support TAT's impactful work to combat this crime and look forward to partnering with others in the industry as we put the brakes on child sexual exploitation and human trafficking.
— Gordon Bottomley
Update: March 1, 2017
This post has been updated to reflect new data released on the number of sex trafficking cases and victims reported to the National Human TraffickingResource Center by members of the trucking industry.
WATCH: Ashton Kutcher delivers his opening statement before the Senate Foreign Relations Committee on ending modern slavery and human trafficking.
[youtube https://www.youtube.com/watch?v=DOc-SjcR6Eo?rel=0&showinfo=0&w=560&h=315%5D