On The Road with Loadsmart: Get to Know The Carriers Keeping America's Shelves Stocked During The Pandemic
by admin
It may seem like a long time ago that we were all talking about toilet paper shortages; in reality, it was only a few months ago. And while there is no longer a toilet paper shortage, we can't lose sight of how it made its way back to shelves across America.
For America's Truck Drivers "Essential" Means Doing Their Job
Much of the country and services came to a screeching halt when the pandemic arrived and are slow to resume. Americans continue to look to "essential workers" to step up to the plate and keep our country's supply chain running.
A critical but often overlooked link in the supply chain, trucking, was quickly forced into the limelight. Because if you buy something, a truck has to bring it. And thankfully, our nation's truck drivers just kept trucking.
America is still struggling with how Covid-19 has altered our daily lives and what that means for families and the future of businesses. Meanwhile, truck drivers continue to risk their health and that of their families to ensure products get to stores and hospitals.
If you Google "truck drivers during the pandemic," you will find lots of articles about truck drivers finally gaining recognition as a vital link in the supply chain. Some even refer to them as "road heroes."
Read a few articles. It only takes a few to see many responses from truckers like, "This is just what we have to do," "We did what we had to do," and "We just keep rolling."
They are unquestionably the new humble heroes of the supply chain, doing their job, one they do every day, pandemic or no pandemic, and proud to do it.
But, unless you're behind the wheel of a truck, you haven't experienced the lines at facilities, been faced with new loading precautions, and been unable to find open restrooms or restaurants, it's hard to truly appreciate the challenges and sacrifices truckers have made as we depend on them more than ever.
Truck Driver Experience Is Important to Logistics Technology Companies
At Loadsmart, we consider ourselves lucky because we get to talk to carriers every day and have employees who have spent years in the industry getting to know carriers across the county.
There is a very real (and fair) stigma attached to logistics technology companies; many feel they are too far removed from the day-to-day life of a truck driver to understand their challenges genuinely.
Our shippers, carriers, and logistics partners are at the core of what we do at Loadsmart and we believe it's a privilege to share the road with them every day.
Carriers Persevere Through Covid-19 Pandemic Hardships
While the toilet paper jokes have mostly subsided, we don't want the hardships felt by carriers during the Covid-19 pandemic (and the humans behind them) to go untold. There is much to be grateful for and to learn from their continued perseverance to keep America's shelves stocked.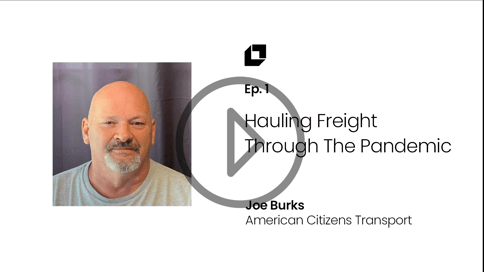 Carriers Tell Us First Hand About Their Pandemic Struggles and Challenges
Our thought is, the best way to do that is to share our carriers' stories and let them tell us first hand about the struggles and challenges they face while working through the current crisis.
We've reached out to some of our carriers, shippers and logistics partners and the amazing people we get to share ports, loading docks, highways, and rests stops with and asked them if they would do us the honor of sharing their stories with us.
We are excited to bring you their stories to you in the coming weeks and months through an on-going video series. Matt Fleming, our Director of Marketing, will have video chats with carriers to learn more about the personal and professional impact Covid-19 has had on them.
We look forward to learning more and sharing the stories of the people making sure we all have the things we need and the key to their perseverance during the pandemic. What's next for their businesses and their thoughts on the on-going impact the pandemic will have on the market.
No Comments Yet
Let us know what you think