C-U-Later, CVSA Roadcheck Week
by aaronroseman
CVSA International Roadcheck is scheduled for May 4 — 6, 2021. It's an annual three-day event when CVSA-certified inspectors conduct compliance, enforcement and educational initiatives targeted at various elements of motor carrier, vehicle and driver safety. It's the largest targeted enforcement program on commercial motor vehicles in the world, with nearly 15 trucks or buses inspected, on average, every minute across North America during a 72-hour period.
What does this mean? Typically during this period we find many carriers are "parking" their equipment and keeping them off the road. Rather than risk fines or shutdowns due to outstanding equipment improvements carriers are sitting the week out. In a typical market this creates added capacity constraints and can make even traditionally "easy" lanes more challenging. In our current market, which is already seeing an elevated level of utilization, we expect the capacity constraint to be even more pronounced.
Small and mid-sized businesses (SMBs) are particularly affected by these dynamics during this three day span. SMB shippers who can be agile will be the most insulated. Being able to move ship or delivery dates to match available capacity will give you an advantage over the more inflexible organizations. Find some other helpful tips below to navigate the week and others like it.
Communication Will Drive Success
Whomever your provider is, ensure the that the lines of communication are open. If you ship with Loadsmart, for example, you can expect an increased level of communication with the team during this period as we work to bring you all available capacity options to ensure minimal disruption to your supply chain during this time.
Diversify Your Carrier Base
When the market is tight, one of the top ways to ensure you're securing capacity without heavily sacrificing on service or price is to diversify your carrier base. Companies can use this valuable strategy to distribute their risk more widely by relying on a larger number of carrier partners. This can help you better navigate fluctuating market conditions.
It's an approach that can be easier said than done, however, and adding carriers just for the sake of it will not be helpful. This is where having smaller-scale trucking companies on your side can come in handy. For example, 82% of all loads moved through Loadsmart's board in March 2021 were hauled by carriers with 50 or fewer trucks — more than double their 40% share from April 2020. What's more, nearly half of all freight (48%) moved through Loadsmart's system in March 2021 was hauled by the industry's smallest motor carriers, those with 10 or fewer trucks. That's up from their 20% share from April 2020.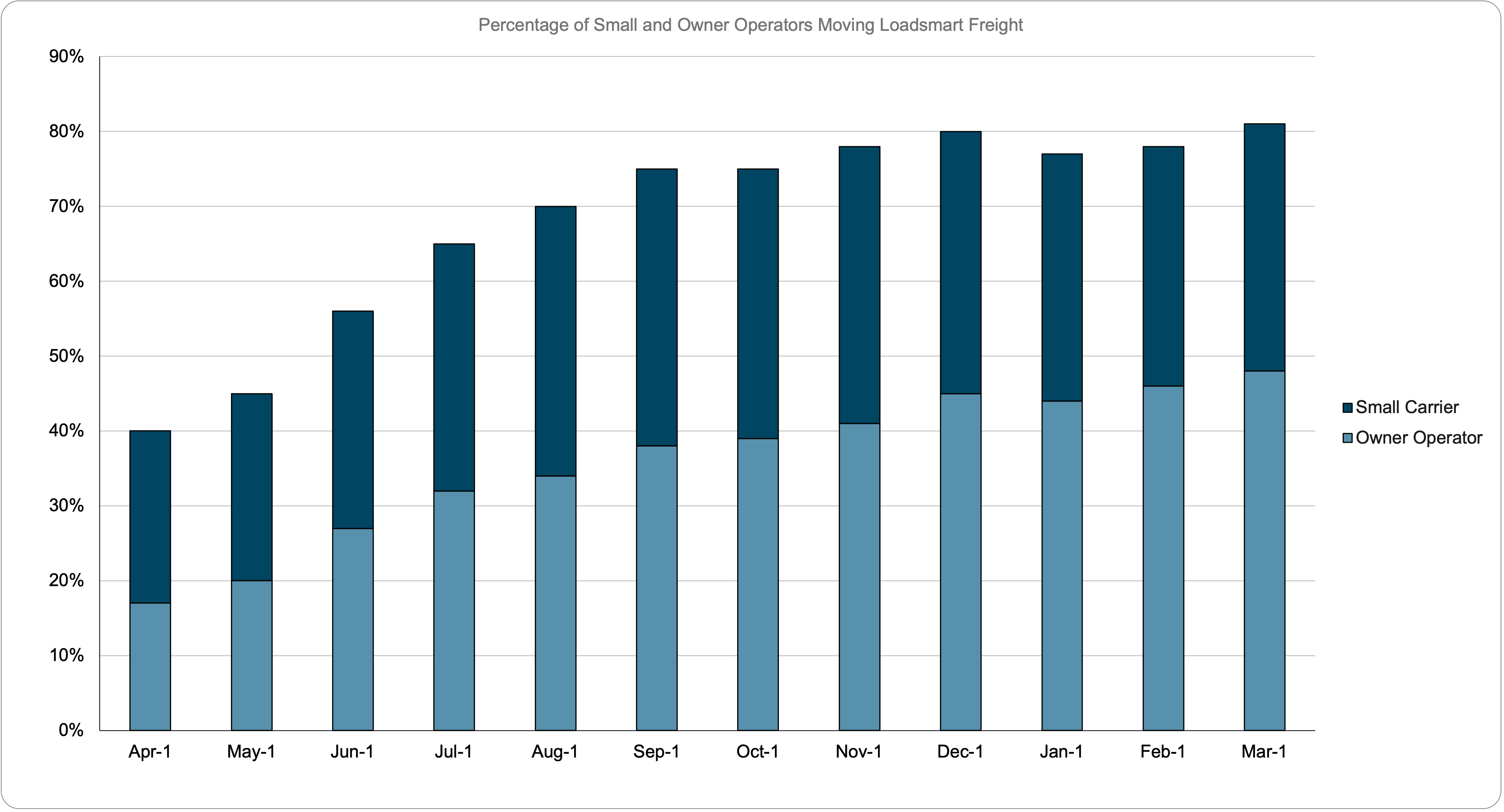 Without the critical capacity these smaller trucking companies provided during one of the most disruptive periods the industry has seen, a difficult past year would have been even tougher for a lot of shippers. So, don't forget to capitalize on this tactic as supply starts to tighten again.
Leverage Alternative Modes for Optimization
By leveraging alternative modes, including rail, partial truckload, and LTL, shippers can optimize their shipments for cost, speed, and even sustainability. Rather than seeking out multiple quotes for FTL and rail options, SMBs can also save time by working with a digital freight technology leader offering the data and intelligence necessary to compare options and make the best routing decision instantly.
Loadmart's best-in-class mode optimization algorithms, for instance, recognized 30% of all FTL shipments qualified as suitable for rail. Switching FTL to intermodal has the potential to reduce both costs and carbon emissions significantly.
Not sure how to find access to more carriers or to be sure what transportation mode meets your freights' requirements? You're not alone. Loadsmart's logistics experts are here to provide you with fast options and custom workflows catered to meet your goals.
About Loadsmart
We are industry veterans and data-scientists using innovative technology to fearlessly reinvent the future of freight. As the 'nerds of logistics', we seek intelligence in data to solve deep-rooted inefficiencies in the industry. We give shippers, brokers and carriers access to our data connections (linking supply and demand) and suite of award-winning solutions to strike the perfect balance of cost and service. We're creating a more efficient and environmentally responsible way to move more with less. For more information, please visit: https://loadsmart.com
No Comments Yet
Let us know what you think