Move Over Big Carriers, Small Carriers Moved Over 80% Of Loadsmart Freight In March
by aaronroseman
With larger carriers' hands tied in a chaotic year and shippers scrambling to find capacity amid shifting freight patterns and changing consumer habits, parties across the transportation supply chain accelerated their moves toward digital freight tools to keep goods moving and to keep their businesses running.
That shift was particularly evident over the past year among the industry's smallest motor carriers, who increasingly are turning to modern, digital solutions for load opportunities to support their businesses.
On Loadsmart's board alone, 82% of freight moved in March 2021 was hauled by carriers with 50 or fewer trucks — more than double their 40% share from April 2020. What's more, nearly half of all freight (48%) moved through Loadsmart's system in March 2021 was hauled by the industry's smallest motor carriers, those with 10 or fewer trucks. That's up from their 20% share from April 2020.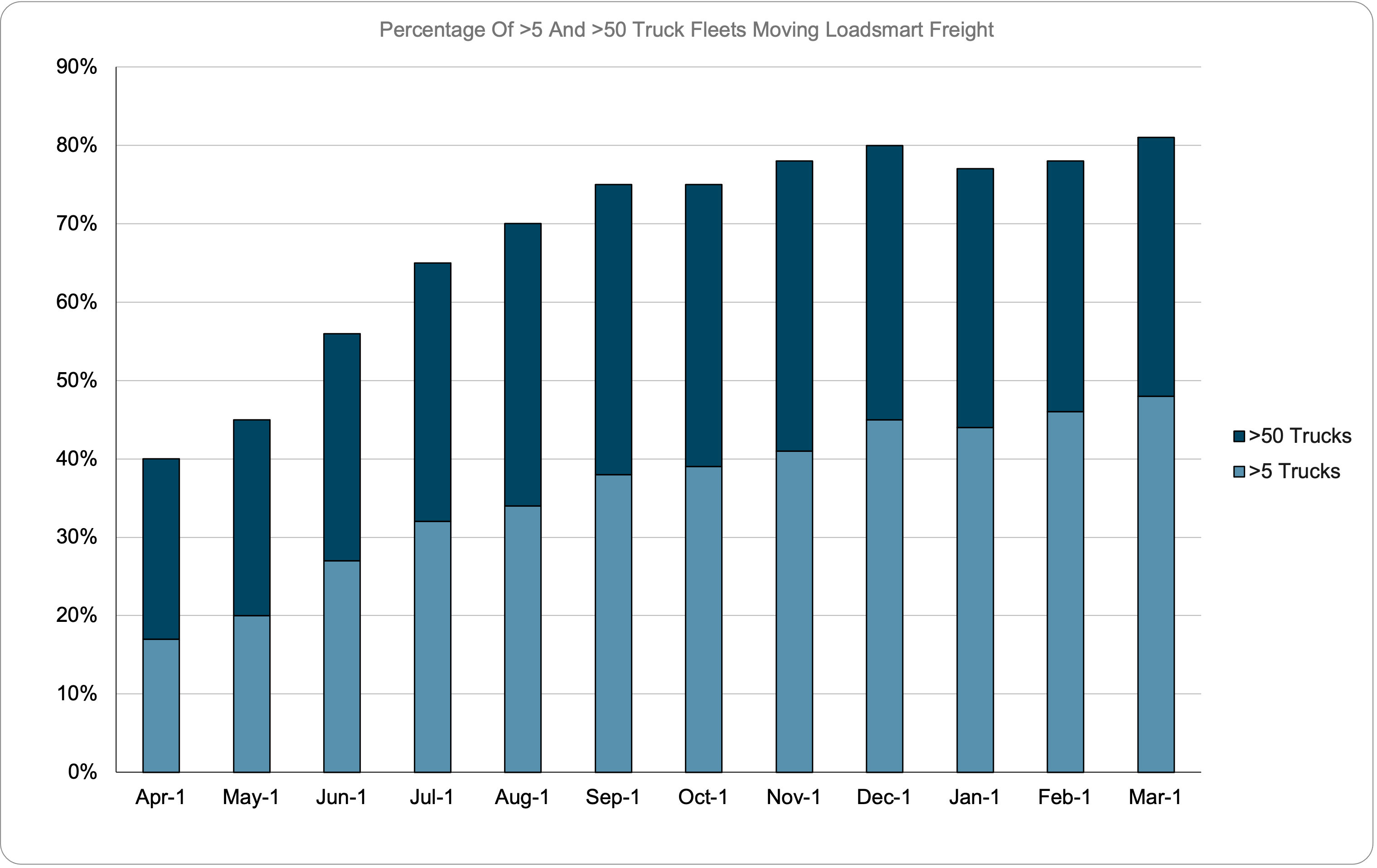 Digital tools empower small carriers in the marketplace
Digital freight platforms provide small carriers access to consistent load opportunities from enterprise shippers like Procter & Gamble, Coca-Cola, The Home Depot, and similar Fortune 500 shippers that have historically been largely unattainable on a consistent basis.
Behind Loadsmart's platform is a 90-person team working with these premier shippers to secure freight that then becomes available via both individual load bookings and via ongoing contracts for carriers of all sizes, including single-truck owner-operators.
Modern platforms democratize access to high-end freight from sought-after shippers, who likewise rapidly accelerated their efforts toward digital freight platforms in the pandemic out of necessity to transport their products.
In the early weeks of the COVID-19 pandemic, when grocers and retailers were struggling to restock essential items like bottled water and paper products, small carriers had the opportunity to instantly pivot to aid in the efforts to resupply essential goods.
Truckers like Joe Burks, for example, who owns and operates the 12-truck American Citizens Transport out of Ohio, told Loadsmart last June he used the platform to quickly shift his small fleet to loads of bottled water, both as a means to keep his business running and to be part of the restocking push. "We had to get into essentials," he said. "Now, we're hauling quite a bit of water and dry food products."
Customized load opportunities for every carrier
Carriers can build a custom profile within the Loadsmart app to set their preferences for lanes, geographies, and load types. When preferred loads become available, carriers can opt to receive notifications directly from the app and instantly book them without having to search the loadboard.
For small fleets, this allows dispatchers "to focus on what matters most — the driver," said Jimmy Fahey, capacity solutions manager. "With turnover so high, the ability to handle freight with the click of a button allows dispatch to focus on the driver needs and help boost retention."
For owner-operators, it means easier and quicker access to quality, profitable loads, all directly through Loadsmart's app. Increasingly, single-digit-truck carriers are leaning on modern platforms for load opportunities.
"There's a new generation in the industry," said Jordan Abrams, Loadsmart's director of carrier sales. "Older technologies like fax and rate sheets are being phased out. Planners and dispatchers want these tools to get their jobs done." In 2016, for example, just around 60% of drivers had smartphones. Now, that number has climbed to over 90%. "This is a new era of how business is going to be done," said Abrams.
End-to-end support for every load
Loadsmart gives carriers the ability to bid on and book loads directly through the Loadsmart app without any human intervention. But every carrier on the platform also has a dedicated point of contact at Loadsmart when needed. Unlike other platforms, carriers aren't routed to a call center.
Loadsmart's app was built with small carriers in mind, giving them the ability to search for and accept load bookings, update shippers and receivers on their status, and then file bills of lading with Loadsmart after a load's been delivered. Soon, carriers will be able to be paid directly through the app [approval needed on this line].
"We're building actual relationships with carriers," Abrams said. "We're not just a random call center. Our technology allows us to build these relationships directly with our carrier partners, no matter how many trucks they operate."
Small carriers provided a critical network amid the pandemic
As a wave of pandemic-driven freight and shifting consumer habits crimped trucking capacity at larger motor carriers over the past year, the industry's smallest trucking companies provided a critical network that helped keep loads moving through Loadsmart's platform.
"It shows the importance of the small businesses, the owner-operators and the small fleets, in this volatile market," said Jim Nicholson, Loadsmart's vice president of operations. "Technology on Loadsmart's platform has empowered small carriers, even in a year as tumultuous as 2020."
As large and enterprise-level carriers saw their capacity and utilization rates tighten after the spring downturn and as the freight market rebounded, small business truckers were vital in keeping up with the shifting economy. And the market factors over the past year provided a tailwind for Loadsmart to diversify and expand its carrier base.
If you've enjoyed these insights and have questions or comments, start a conversation with us on your loadboard, resource center, or send an email to capacitydevelopment@loadsmart.com
DISCOVER YOUR LOADS
About Loadsmart
We are industry veterans and data-scientists using innovative technology to fearlessly reinvent the future of freight. As the 'nerds of logistics', we seek intelligence in data to solve deep-rooted inefficiencies in the industry. We give shippers, brokers and carriers access to our data connections (linking supply and demand) and suite of award-winning solutions to strike the perfect balance of cost and service. We're creating a more efficient and environmentally responsible way to move more with less. For more information, please visit: https://loadsmart.com
No Comments Yet
Let us know what you think