INSIDE LOOK: A MONTHLY ANALYSIS OF LOADSMART'S DATA & MARKET INDICES
by aaronroseman
June was an irregular month as far as the freight market goes: typical seasonality would suggest we'd have seen a steady ramp up in rates/volumes into July 4th. Instead, rates actually softened throughout June and demand surged much less than it would in a typical year. From a macroeconomic perspective, we see signs of a sluggish economy, but no recession yet.
Read more to get our freight market recap on the past 1-2 months, our predictions for the coming 1-2 months, a drayage market update and much more!
Full Truckload Spot Market Overview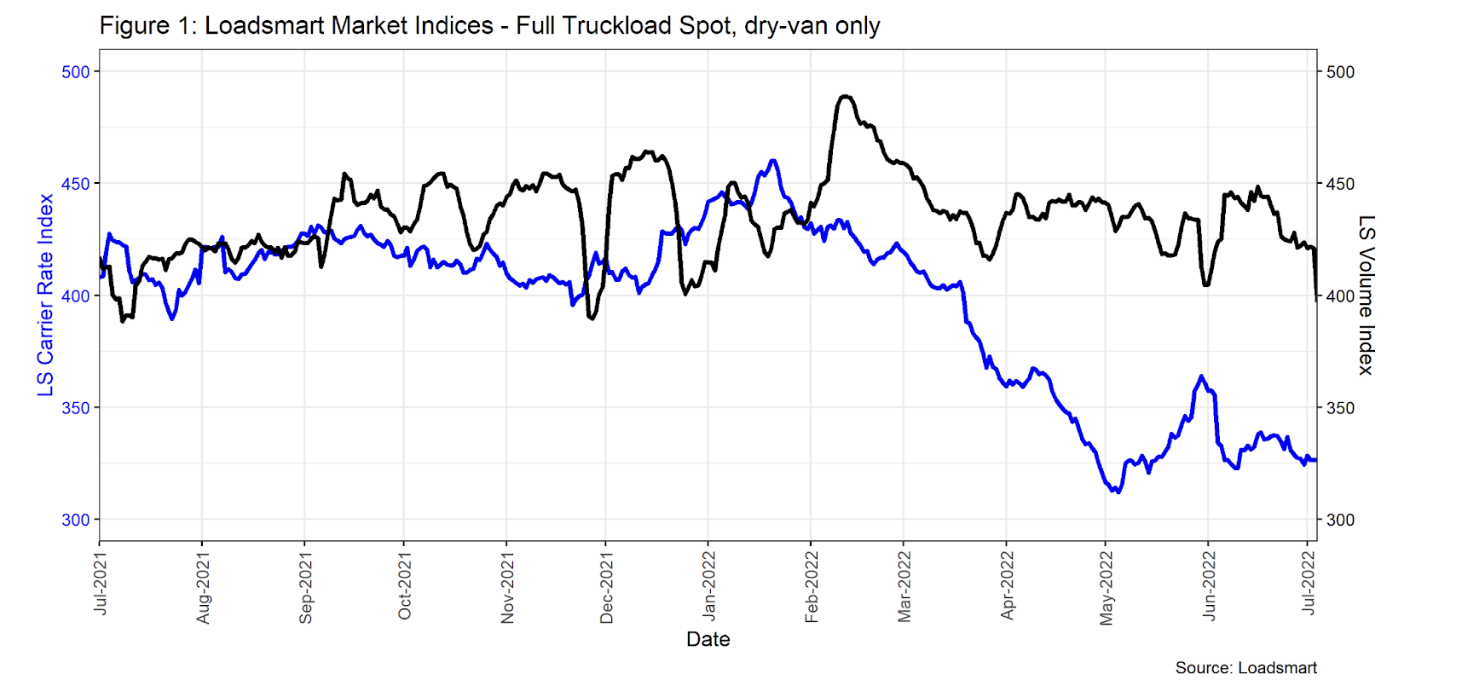 Volumes

: As usual, Volumes dropped over Memorial Day and then rebounded in the first half of June. Surprisingly, however, volumes then actually came down on the back half of June as we approached July 4th

Rates:

As seen in Figure 1, in May Loadsmart's Rate Index

had a brief recovery from the extreme market softening that took place from Jan-May'22 – in May LS carrier rates recovered 13%.

But as soon as we passed Memorial Day, the recovery was proven to be only temporary. The rate index dropped (-9%) closer to its beginning-of-May values and it has been oscillating at the 325-340 range since the end of May.

On Friday, July 1st, carrier rates were 27% lower YoY and Loadsmart felt a somewhat muted impact from July 4th overall (minimal rolled loads, manageable load stacking, no big demand surges, etc)
Suggestions for shippers:
Similar to produce season, the food and bev surge starts in the south and then migrates north as the weather heats up even further. Don't be surprised if some markets in the mid-northern parts of the country experience tightened capacity over the next month as we finish up the summer surge

Remember that contract rates follow spot rates and are very likely going to decline over the coming 6-12 months

If you want to recognize cost savings as the market softens but don't want to constantly re-bid your network, consider leveraging Loadsmart's Reliable Contract Solution –

click here to read more
Loadsmart's "Hot Take" for the Full Truckload Market for July
We predict a truckload demand softening in July (10-15% decline in our index) given typical seasonality, the macro backdrop of weaker consumer demand, the recent industrial output declines, and an impending recession

Supply (capacity) should remain strong throughout July as Logistics Managers' Transportation capacity index still saw minor growth in June and Sonar's Outbound Tender Reject Index hit its lowest point of the year.

We predict rates to steadily decline throughout July by 5-10%
Notable Freight & Economic Relationships
Industrial production from key sectors
Loadsmart is exposed to large amounts of shipping activity on key goods such as food and tobacco, furniture, clothing and construction supplies. In Figure 2 below, we report the recent levels of industrial production in these sectors.

Industrial production flattening will likely have an impact on softening truckload demand since these industries are our primary end-users.

Output gains for most sectors have been close to zero for the past three months, except for furniture that had large oscillations, declining 8% MoM from April to May.

Finally, we might see signs of slowdown – specially for durable goods that had a remarkable output growth in 2021 – but no indication of recession so far.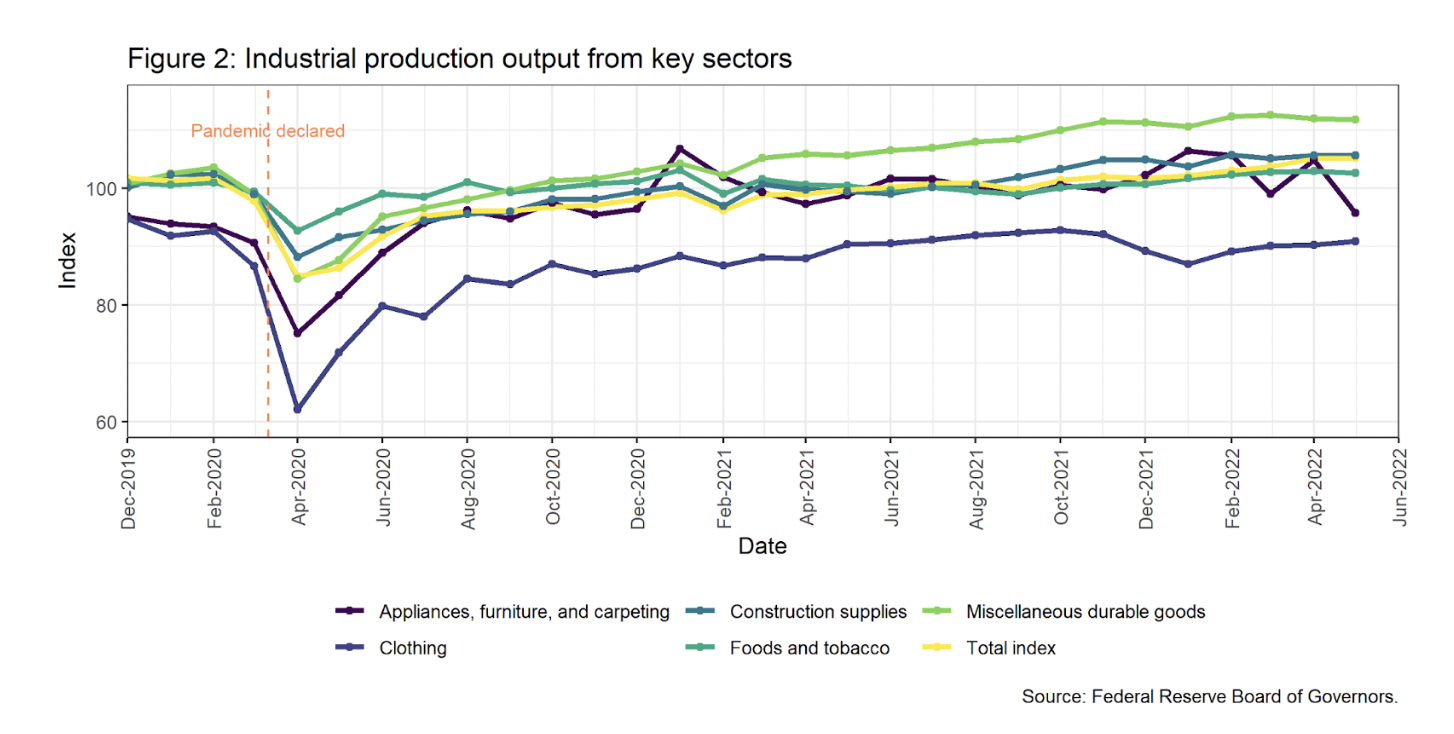 Heavy truck market
Another variable highly correlated to industrial production, but more capable to show the impact of output fluctuations on haulers is heavy truck demand.

As shown in

Figure 3

below, heavy weight trucks retail sales increased by 5% MoM, with 37.5 thousand truck units sold in May, according to FED estimates.

But given this series' high vulnerability to seasonal fluctuations, we can better evaluate it using the 12-month rolling average. The rolling average shows a mild downward trend in sales starting in July 2021.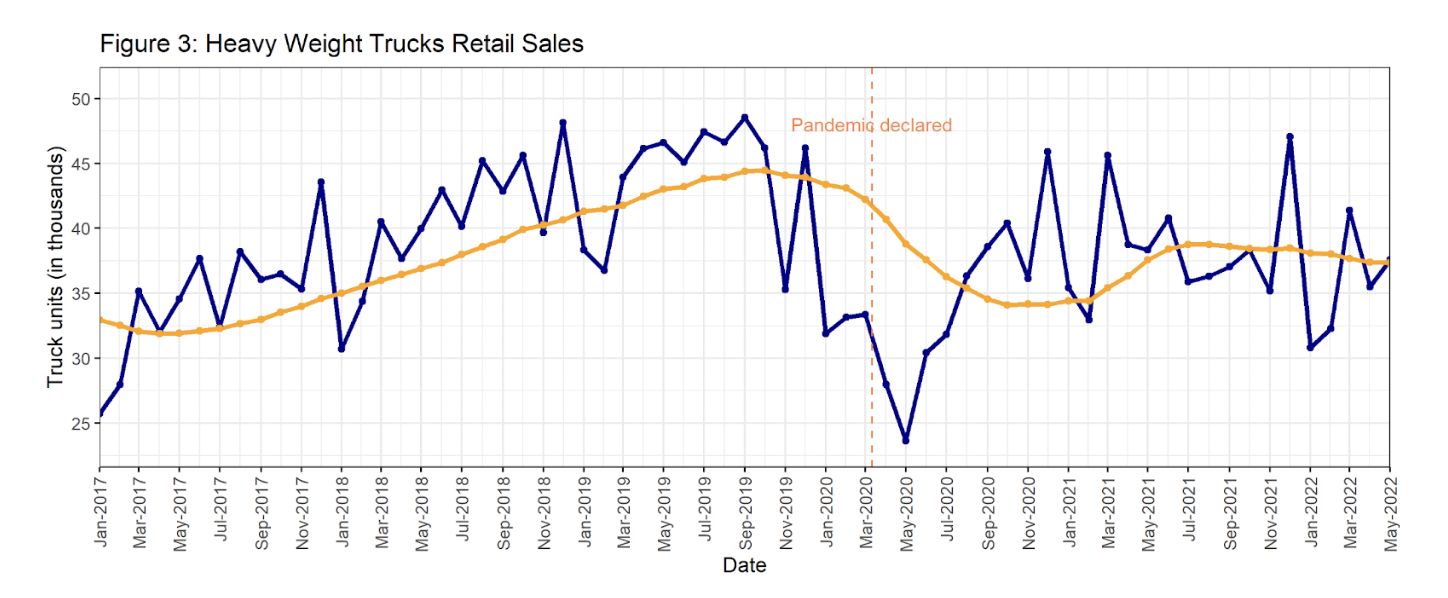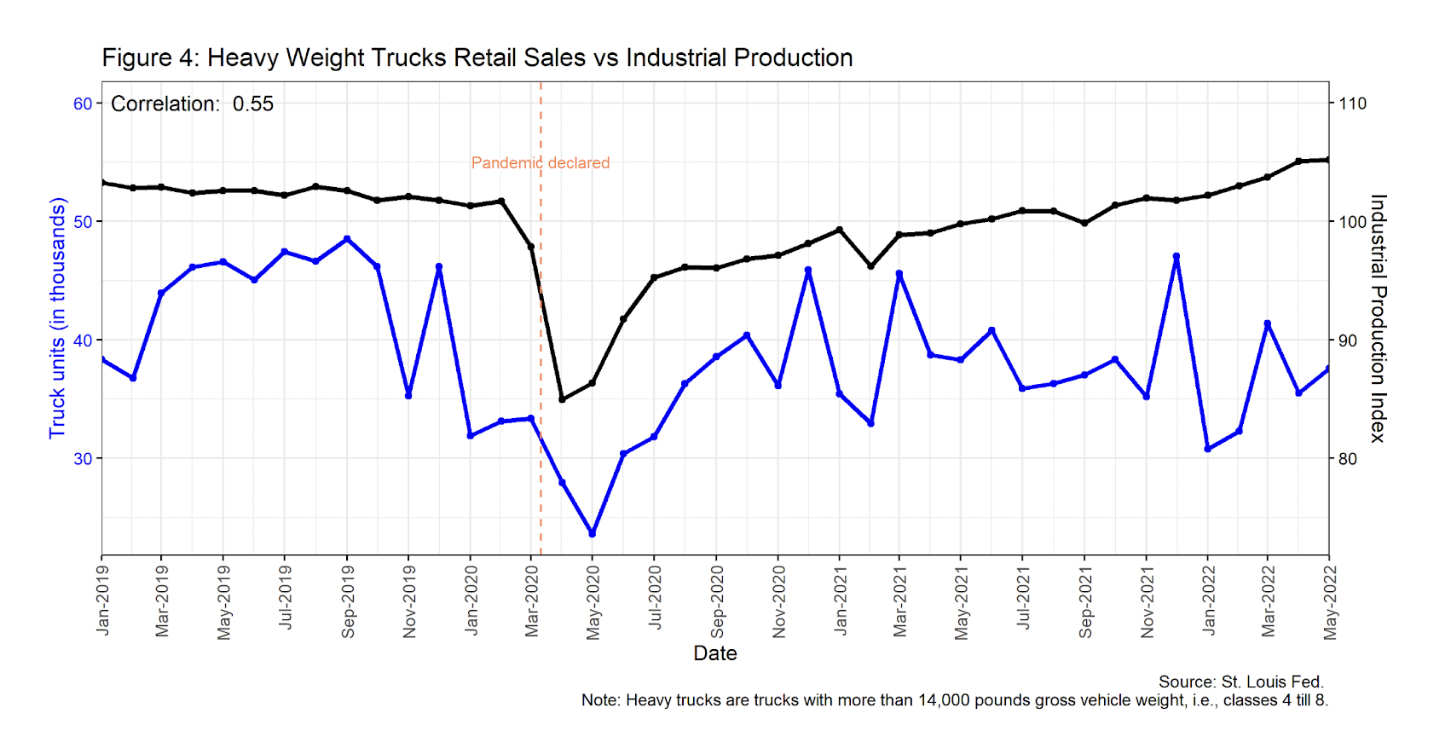 Freight companies' financial health
Data from The US Census Quarterly Services Survey, displayed in

Figure 4

, show that freight companies kept their revenue roughly constant in the first quarter of 2022. The estimated total revenue of freight trucking companies rose only 1% in QoQ, both for total and long haul business.

This result is far below from last year's average QoQ growth of 5%, but it shows this sector's financial strength amid the recent economic slowdown when compared to the general service sector. The services sector' revenue declined 5% QoQ.

That said, given what we've discussed above, we expect to see this revenue growth for Freight Trucking companies to slow down further in Q2'22 or even decline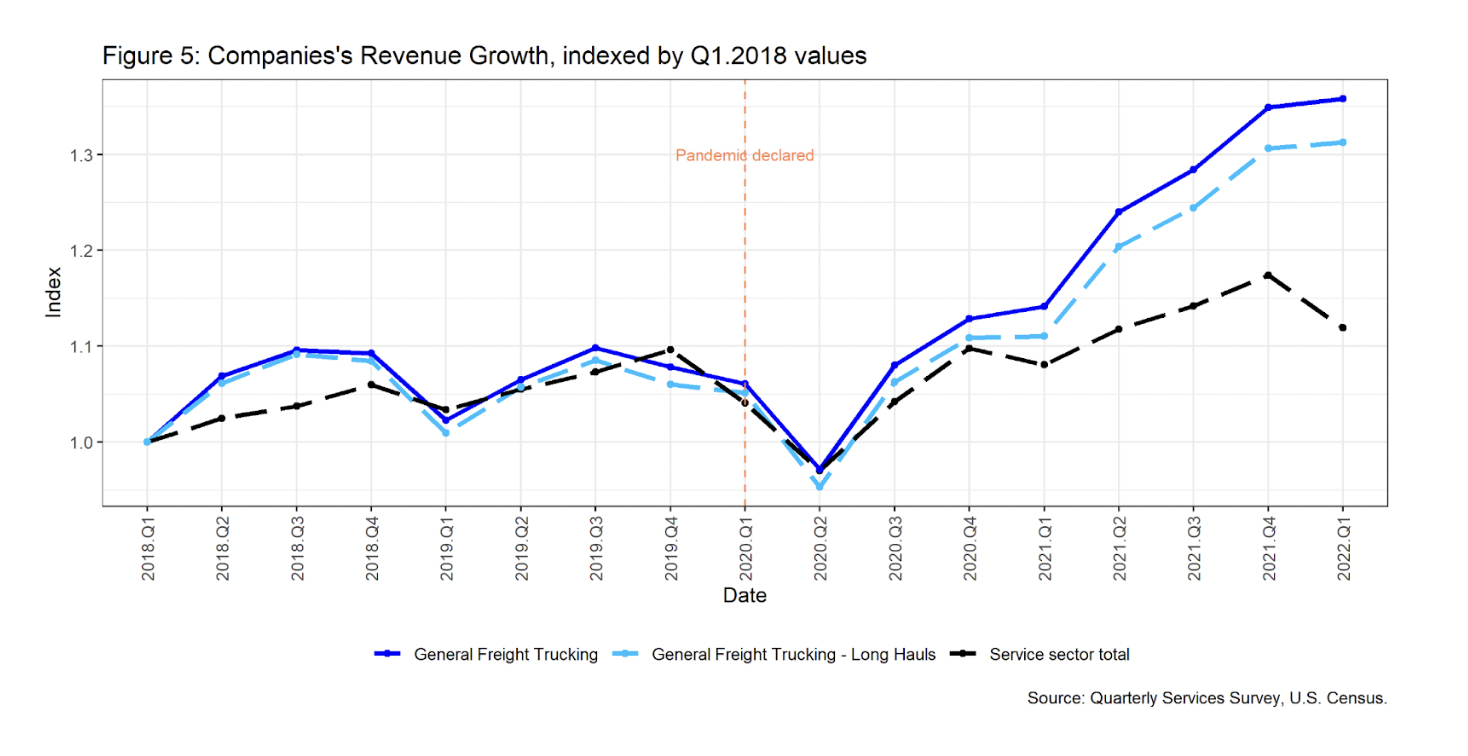 ABOUT LOADSMART
Transforming the future of freight, Loadsmart leverages technology and logistics data to build efficiency around how freight is priced, booked and shipped. Pairing comprehensive logistics technology with deep-seated freight industry expertise, Loadsmart fuels business growth, simplifies operations and increases efficiency for carriers and shippers alike. For more information, please visit: https://loadsmart.com. Move more with less.
No Comments Yet
Let us know what you think