Inside Look: A Bi-Weekly Analysis of Loadsmart's Data & Market Indices
by jpallmerine
Despite a softening macro environment year to date, over the past two weeks Loadsmart is seeing rate stabilization and minor tightening in the full truckload market – capacity remains available and volumes have leveled out after their significant decline in March/April (as seen in Figure 1 below).
Full Truckload Spot Market Overview
We've seen widespread price reductions in the Full Truckload Spot market since March, with volumes decreasing and a surplus of drivers in the market.

Truckload Demand softening stemmed from overstocked inventories, consumer spending slowdown & a shift from durables to services, recent inflation, higher interest rates, climbing oil prices and global conflict.
Loadsmart's Rate Index plummeted by -26% from March 1st to May 1st. Since May 1st, however, our rate index made its most significant recovery YTD'22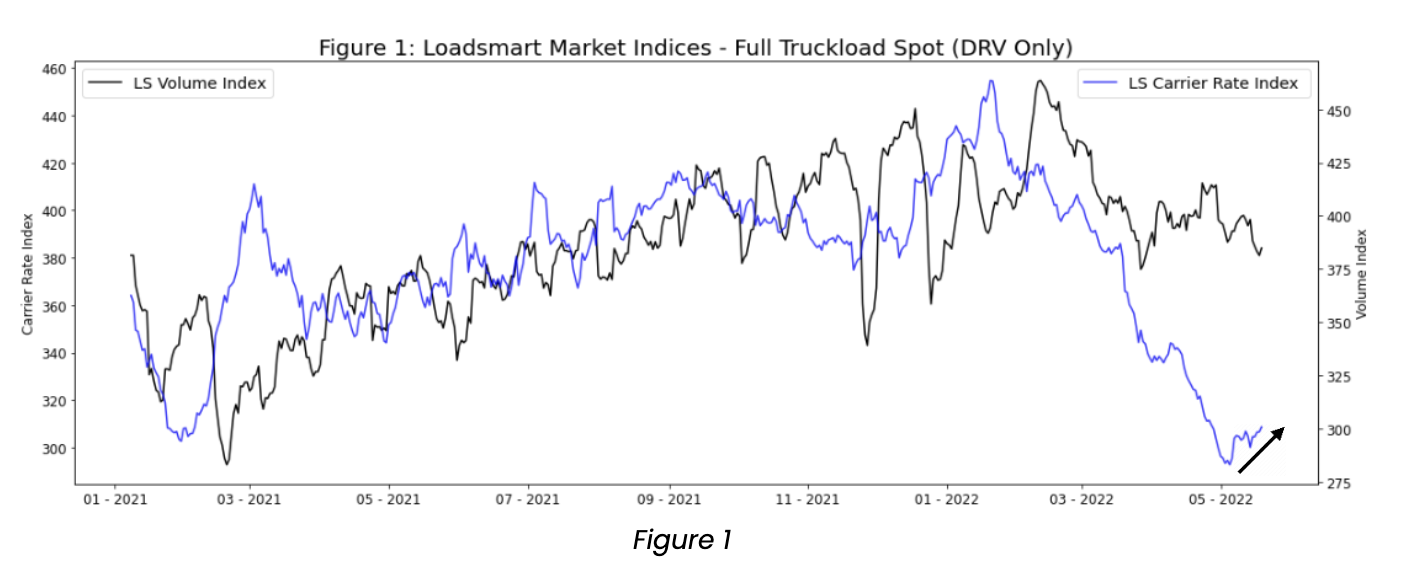 As seen in

Figure 1

above, in the first three weeks of May there

has been a noticeable recovery in the price level (+5%)

, which was likely due to produce season impacts, a surge in demand from our top retail shippers, and Road Check-related tightening.

As seen in

Figure 2

below, Inventories to Sales Ratios spiked toward the end of 2021, leveled out for January '22, and began increasing again more recently. With durable good consumption slowing down as indicated by the increasing index, shippers will inevitably need to move less freight. We expect this ratio to continue to increase over the coming months (due to inflation, consumption shift to services, economic slowdown, etc)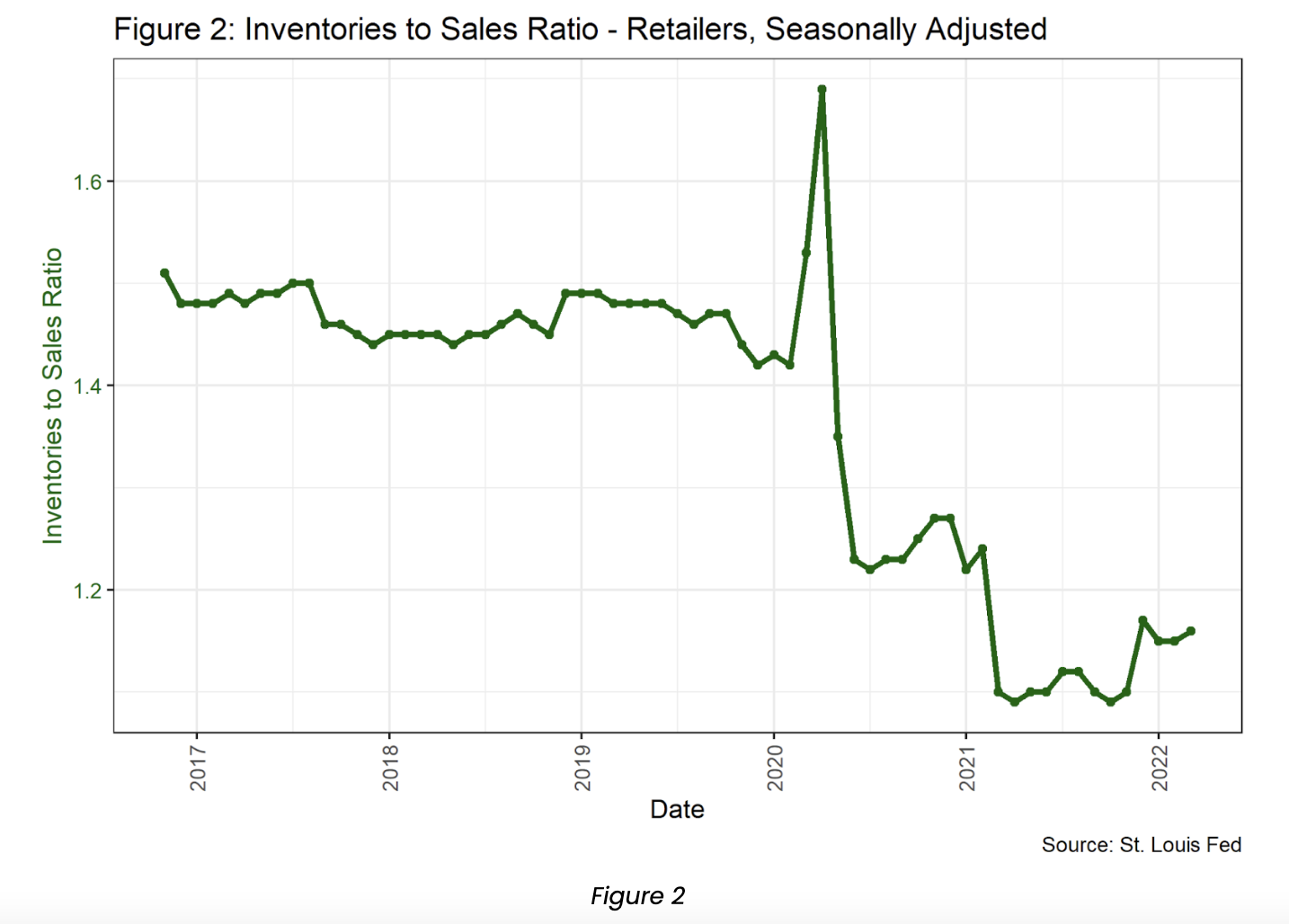 Loadsmart's "Hot Take" for the Full Truckload Market over the next 2 weeks
We predict continued stabilization in the FTL Dry Van Spot market over the next two weeks – with Memorial Day and End of Month, we expect to see rates increase another ~2-3% before stabilizing
Notable Freight & Economic Relationships
DRV rates vs. Retail Sales
As shown in

Figure 3

below, we've observed that

dry van spot rates are largely associated with the online retail sales volumes.

February data (most recent data available) shows e-shopping and mail orders are following the usual post-Christmas downward trend. Yet, YoY sales are nearly at the same level. The

Commerce Department

's preview

shows a 5% increase in non-store retail sales (e-shopping and mail orders are a subgroup of it) in April, suggesting that retail demand could be increasing more than expected.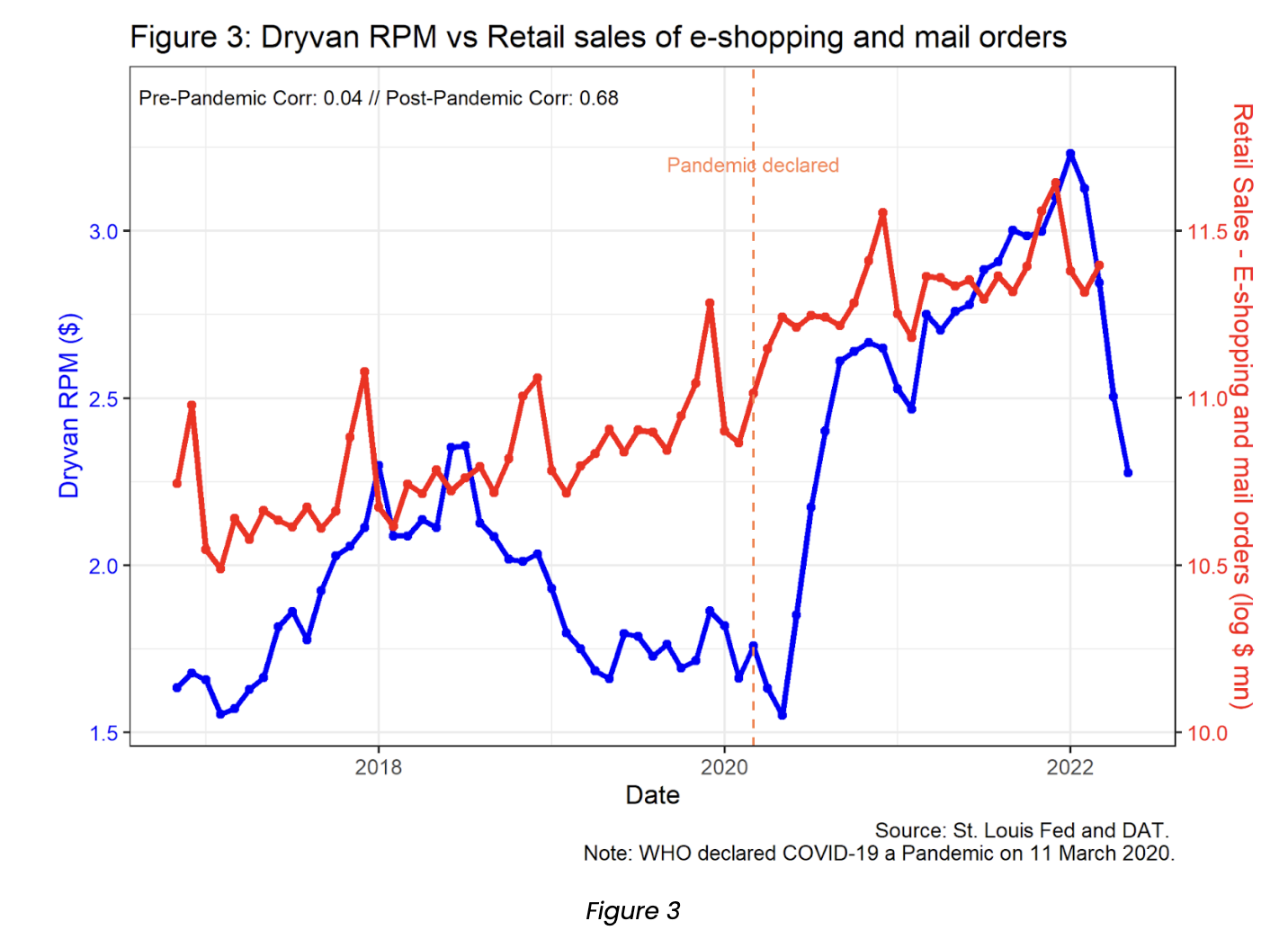 FTL Flatbed vs Housing Starts
Flatbed rates have reached a yearly low in May of $3.32 RPM (sourced from DAT). Even with the drop, the monthly rate still exceeds last year's average $3.24 rpm.

As shown in

Figure 4

below, we have observed that new housing starts offer guidance for future FTL flatbed demand.

Housing starts rose 16.6% in March MoM indicating that the homebuilding activity remains strong despite the surge on mortgage rates. The reasons are that, while inflation increases the borrowing costs, homeownership can work as a hedge against this. Because of this we expect Flatbed demand to increase over the coming months.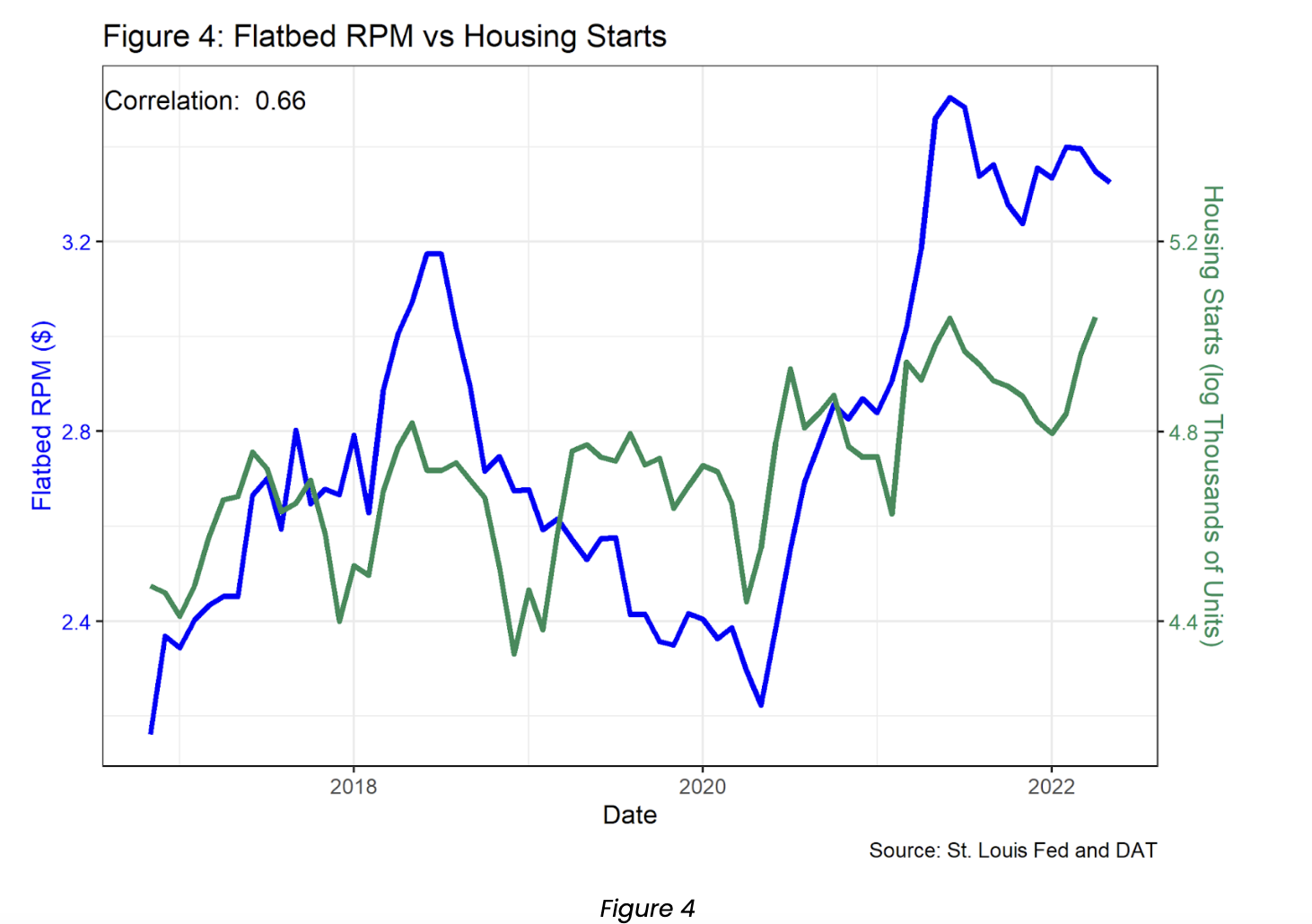 Carrier Costs vs PPI
The Producer Price Index ("PPI") measures the percentage change in selling prices that producers receive for their output. So for the freight market, the PPI represents the change in prices the carrier industry receives.

As seen in

Figure 5

below, Despite the historically positive correlation between carrier costs and PPI, since January 2022 there has been a detachment of the two series as carrier costs rpm are down 12% while the PPI is 10% up YTD April numbers.

The detachment suggests that current market conditions are not allowing carriers to pass on their cost increases (fuel) to shippers.

ABOUT LOADSMART
Transforming the future of freight, Loadsmart leverages technology and logistics data to build efficiency around how freight is priced, booked and shipped. Pairing comprehensive logistics technology with deep-seated freight industry expertise, Loadsmart fuels business growth, simplifies operations and increases efficiency for carriers and shippers alike. For more information, please visit: https://loadsmart.com. Move more with less.
No Comments Yet
Let us know what you think